A bit about Colm Feore
Share this page: Facebook LinkedIn Pinterest Twitter
Who is your favourite actor at the Stratford Festival??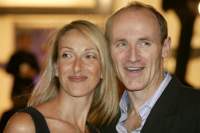 One of my favourite actors at the Stratford Festival is Colm Feore. He has made Stratford his home for the last 13 years, with his wife, Donna Feore, a marvelous choreographer, and his three children.
As well as being a long-time principal actor at the Festival Colm Feore has appeared in numerous film, theater and television roles to entertain his fans. This year he is playing the lead roles in both "Richard III" and "The Miser", roles that illustrate the versatility of his acting skill.
Colm Feore is perhaps most famous in the United States and Canada for his supporting roles in such Hollywood films as Pearl Harbor, The Sum of All Fears, Paycheck, and The Chronicles of Riddick, but his list of credits is extensive, as listed below.
In 1999, he appeared in Stephen King's Storm of the Century as the powerful ancient wizard Andre Linoge.
He was the crooked Los Angeles Police Chief James E. Davis in 2008's Changeling.
In 2011, he appeared as Laufey, King of the Frost Giants, in the live-action superhero film Thor.
In 2014, he portrayed Dr. Francis Dulmacher in Gotham.
He portrayed the First Gentleman Henry Taylor on the seventh season of 24, appeared as Tad Whitney in The West Wing second-season episode titled "Galileo", and played the billionaire suspect Jordan Hayes in the 2011 Law & Order: Special Victims Unit episode "Flight".
He played murderers (by supernatural means) in two episodes of Friday the 13th: The Series, and played Randall Flynn in Revolution.
In The Umbrella Academy, he plays Sir Reginald Hargreeves/The Monocle, and in 2014 he played Donald Menken in The Amazing Spider-Man: The Destiny of a Hero.
The list of his credits goes on and on! We are so fortunate to have him perform so frequently and brilliantly with the Stratford Festival, and we love to go to the theatre to see his performances.
By the way, we still have room at Mornington Rose for you to see one of his stellar performances before the end of October, but act fast as tickets are much in demand!
Have you seen our Free Guide? Go here to access your copy now to find out "What to Do and Where To Go While Visiting Beautiful Stratford, Ontario"