Breakfast At Mornington Rose Bed and Breakfast
Enjoy a sumptuous silver service breakfast served on our airy veranda or in our elegant dining room.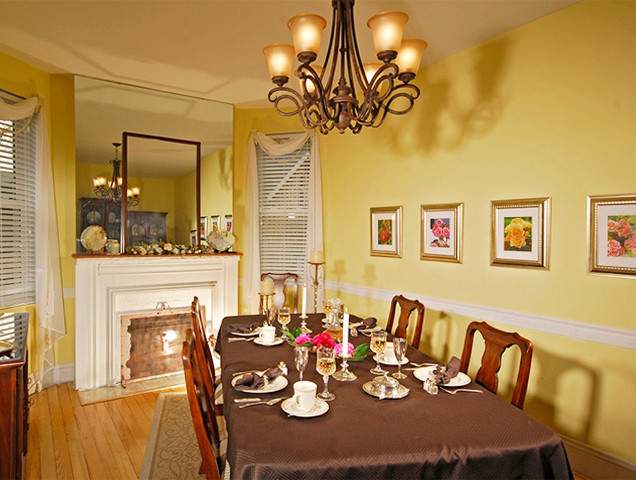 A silver service breakfast and a welcoming cup of coffee will be ready at 9:00 a.m.
A Fresh Start
Begin your day with your choice of fruit or vegetable juice. Then enjoy a refreshing fresh fruit plate or cup, with creamy yogurt and crunchy homemade granola.
This is served with sweet rolls or a light breakfast cake. Some mornings you'll be treated to Murray's melt-in-your-mouth scones with cream and home-made preserves.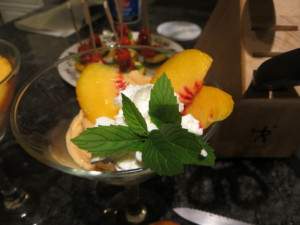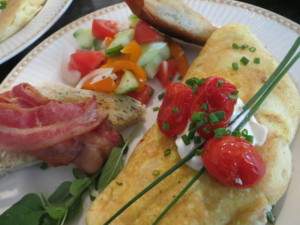 A Hot Entree Follows
Breakfast choices are different every day.
Savory choices could be luscious Eggs Benedict with bearnaise sauce served on a freshly baked croissant, Eggs Florentine, or a Tex-Mex Frittata with salsa and cornbread. Perhaps you would prefer a roasted red pepper and feta omelette with lemon potatoes and Greek salad, or Eggs Flamenco with ham and a spanish tortilla.
A Sweet Finish
If a sweet breakfast is your preference, perhaps you'd like our buttermilk pancakes with raspberry coulis, fresh berries, whipped cream and almonds. You may be treated to fruited or bananas foster French toast, or Crepes Suzette with mascarpone and Gran Marnier. Do you think a blueberry breakfast pudding with lemon sauce would suit you better?
You never know what to expect at the Rose but you know it will be delicious!!
All our breakfast entrees are accompanied by a selection of meat and vegetable sides, and are garnished with edible flowers from our garden.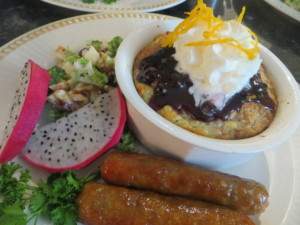 Enjoy a great cup of fresh-brewed coffee, tea or another beverage of your choice with your meal.
We take great pride that all of our baked goods and preserves are made fresh, and on site. We only use locally sourced meat from butchers in town or from our Saturday farmers market. Much of our produce is grown in our garden beside the house, or purchased from local producers.
If you have any dietary needs, please let us know in advance.
We cannot guarantee that any dietary needs can be met without prior arrangements.
Baked goods, preserves of all kinds and homemade cheese! Yummy!!!
Ginger Pumpkin Loaf, Walnut Banana Bread, Blueberry Lemon and many other kinds of breakfast cakes are all made fresh on in our kitchen. Don't miss the many different kinds of Murray's sweet and savoury scones on the breakfast table. Try a piece at breakfast or for an afternoon or evening snack!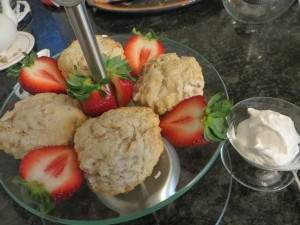 Scones and cookies are available for purchase if ordered in advance.
Soft cheeses and fresh mozzarella are also made here.
Try my savoury goat cheese on a crostini with some crunchy radish slices or roasted cherry tomatoes. Taste a sweet cheese on a scone with home made preserves! Both are delicious on a freshly baked croissant!
Our fresh mozzarella is great with tomatoes and basil from our garden for a breakfast side, or on a piece of rosemary toast with your breakfast!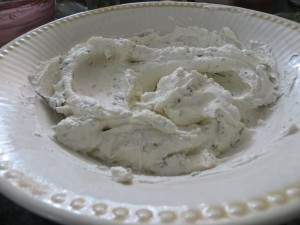 Many kinds of preserves and condiments are made at Mornington Rose.
We pick or purchase local fruit in the summer when it is lovely and ripe, and then freeze it to make into preserves and chutneys over the winter. The cooking aromas makes the house smell amazing on a cold snowy day.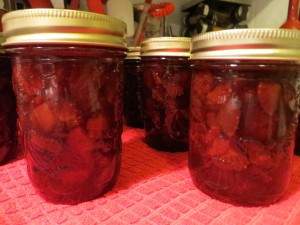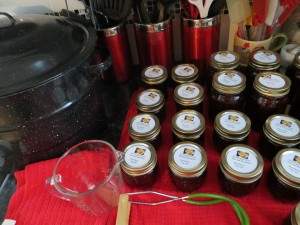 Murray and Victoria have both successfully completed the Safe Food Handling course offered by the Ontario Government.