Lights on Stratford
Share this page: Facebook LinkedIn Pinterest Twitter
Mark your calendars as Stratford gets ready to welcome you for the award-winning 3rd annual Lights on Stratford Winter Festival of Lights!!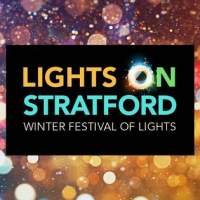 Brought to you by Destination Stratford, Lights on Stratford launches Friday, December 16 until January 27, 2023 and runs nightly from 5:00pm to 10:00pm. It will once again transform Stratford's heritage downtown core and park system with luminous art and interactive light installations. This FREE public event is designed to be safely enjoyed with on-site staff.
This year's Lights on Stratford theme is REKINDLE – to relight (a fire) or revive (something that has been lost). As we come to the end of another year of missing our friends , family, and favourite places, we can look forward to rekindling a sense of hope for the future.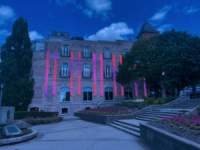 Major displays with new interactive light shows will be in different locations around Stratford. The Tom Patterson Theatre, Market Square, the downtown core and Tom Patterson Island will be brought to life. They will be connected by a Light Trail of interactive light displays by internationally renowned artists and Made-in-Stratford creations.
Stratford is home to some of the world's best artists, lighting designers, props builders and creative minds. Lights On Stratford harnesses this precious resource of local talent, crafting a truly unique experience that you can't find anywhere else.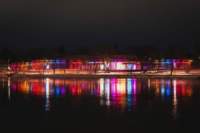 At the Tom Patterson Theatre, the building becomes a shining jewel reflected in the still waters of the Avon River. Lit from inside and out, the changing rainbow colours of the Theatre are breathtakingly beautiful on a still winter's night. A magnificent presentation for Lights on Stratford!!
On Tom Patterson Island, Affinity, an Australian-made interactive, multisensory light sculpture is presented by Amigo and Amigo. It depicts the complexity and connectivity of the human brain was designed to raise awareness about Alzheimer's disease. Measuring more than three metres tall and 13 metres wide, the dome-shaped structure is reminiscent of neurons in the brain. Participants step within an intricate web of interconnected globes representing neurons and memories in the brain. As participants touch each globe, colourful light streams flow outwards into the sculpture and link to another globe. A pulsing light passes between the two connected points; the longer the link is held, the brighter the pulse. (Photo courtesy of Amigo & Amigo)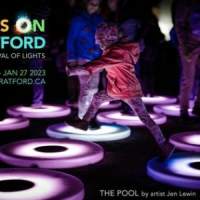 Also coming to Stratford is The Pool, another well-travelled, large-scale and interactive public art display by world-renowned artist Jen Lewin. This new installation features glowing circular pads that swirl with light and are activated by touch. It will have you using your "Dance! Dance! Dance!" skills as you dance, jump, play or walk on its 100 concentric circles at Market Square.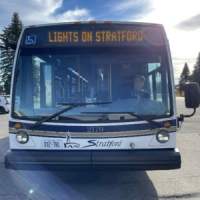 Last but not least, there's exciting news from Lights On Stratford and Stratford Transit. A free hop-on-hop-off shuttle bus will go around to each of the main festival attractions! The route – designed to maximize views of the lights – starts from the Stratford Bus Terminal and runs every 30 minutes starting at 5:30pm through to 9:00pm nightly throughout the 6-week festival. The shuttle creates greater access for our patrons, and the chance to warm up is a nice added perk!
For more details, visit https://lightsonstratford.ca
Photos courtesy of Lights on Stratford and Destination Stratford
Have you seen our Free Guide? Go here to access your copy now to find out "What to Do and Where To Go While Visiting Beautiful Stratford, Ontario"