Mornington Rose Gift Certificate
Share this page: Facebook LinkedIn Pinterest Twitter
Are you looking for a special Wedding, Anniversary, Birthday, or surprise Anytime Gift?
We have the perfect solution for that!
When you give a Mornington Rose Gift Certificate you are giving the ultimate gift – the gift of quality time together!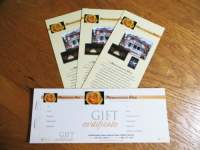 Choose a unique Getaway Experience at Mornington Rose to enjoy the magic of beautiful Stratford, Ontario, any time of the year. Your special people will be thoroughly pampered at our beautiful bed and Breakfast while enjoying some relaxing, well-deserved time away. A gourmet, silver-service breakfast is included, of course!
You provide the Gift – we provide the pampering.
You can help make it happen with a Mornington Rose Gift Certificate in the denomination of your choice. It's just a call away, and sure to be in stock, so skip the lines and don't worry about waiting for shipping.
Call Victoria on our toll-free number 1 866 277 9477, or contact us at info@morningtonrose.com to make this gift of leisure a reality.
Just in case you have any questions, read on…
A Mornington Rose Gift Certificate is available in any denomination from $100 CAD.
They do not expire, so if you can't come to stay with us in 2023, we will accept them at face value at any time in the future.
The Gift Certificate has no cash value and must be used to secure a room at Mornington Rose.
If the value of your stay is less than the value of your gift certificate, you can carry the credit forward to another stay, face value only, with no cash back.
A two-night minimum night stay will be in effect from May 1 to October 31, 2023. Depending upon previous reservations, we may have single nights available, so do call to see if this is feasible.
Each numbered certificate must be presented upon arrival.
A 25% non-refundable deposit will be taken upon booking.
The certificate amount will be deducted from the room rate upon arrival.
Room reservations are subject to availability.
Have you seen our Free Guide? Go here to access your copy now to find out "What to Do and Where To Go While Visiting Beautiful Stratford, Ontario"