The Stratford Kiwanis Garlic Festival
Share this page: Facebook LinkedIn Pinterest Twitter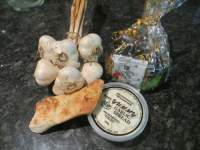 The Stratford Kiwanis Garlic Festival is an annual family-friendly event that gathers garlic lovers and producers into one "stinky" weekend! This year the Festival will be held on September 10 and 11th/22 at the Stratford Rotary Complex located at 353 McCarthy Road, just a short 4 minute drive from Mornington Rose.
Garlic growers from all over Ontario and garlic lovers from near and far return year after year to get the opportunity to meet with their favorite vendors and pick up their supply of garlic in its many forms. You can get fresh garlic by the bulb or in bags, braids, bundles and variety packs. There is also garlic that has been dried or powdered and used to flavor spreads, jams, jellies, pickles, sauces and butter tarts.
The Festival has 'everything garlic', including garlic fudge, garlic ice cream (really??) and garlic olive oil and garlic rubs from Olive Your Favorites, my favourite oil and vinegar shop where I buy all my products for Mornington Rose. Fresh produce, artisan goat and cows milk cheese and butter, and local honey is also available. Have you ever tried Garlic Honey? It's fantastic – try it on pork chops or chicken!
As well as food products, there are talks and seminars to give information about the 26 different kinds of garlic, and hints and tips about growing your own in your backyard garden. This is something I try to do every year to have a good stock on hand. There are vendors selling woodcrafts, jewelry, pottery, candles, and lavender products. There's a silent auction, where you can bid on some wonderful items, food demos, as well as wine, spirits and beer tastings from local establishments.
Of course, local musicians are playing great music while you nibble on your garlic sausage on a bun, as well. It really is a fun-filled weekend!
Make sure you stock up on your supply of really fresh garlic for your winter culinary experiments – they're sure to be a hit with your friends and family!
The admission is $10/day, $15 for a 2 day pass, or 2 for $10 after 2:30pm, children 12 and under are free, and there is lots of free parking!
See you there !!
Stratford Stinks – but only once a year!
"The Stratford Garlic Festival highlights 26 different varietals of garlic that are displayed and promoted in ways that you just have to see and taste to believe. No part of the fruit is spared as the cloves and the scapes are all valued ingredients in burgers, sauces, teas and even ice cream. Speakers, entertainment, demonstrations, recipes, lotions and potions, can all be found at this unique harvest celebration in September, with a long list of vendors sharing their magical plant with aficionados and inquisitive foodies alike."
– Adam Waxman, DINE Magazine: September 3, 2018
Have you seen our Free Guide? Go here to access your copy now to find out "What to Do and Where To Go While Visiting Beautiful Stratford, Ontario"