Charcuterie Dinner
Charcuterie Dinner at Mornington Rose!
Put on your cushy robe and enjoy each other's company in the privacy of your room. Then meander downstairs for a specially prepared charcuterie dinner in the dining room in front of the fire or on the veranda. No need to find a restaurant, drive downtown, find a parking space, drive home, or brave the stormy weather outside! Your comfy bed is only a few short steps away.
Your Mornington Rose Curated Charcuterie Board Dinner
Each charcuterie dinner is different, depending on your preferences.
We speak to you directly to make sure you have let us know of any food intolerances we should be aware of.

You can bring your own adult beverage or we can purchase it for you on your behalf.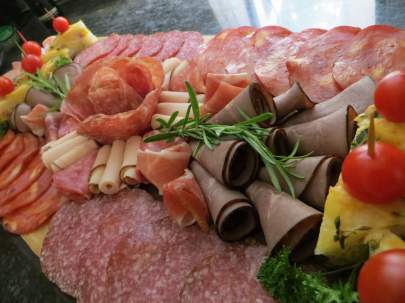 We generally offer a soup to start your meal:
a chunky gazpacho, a creamy asparagus, or other chilled soup in the summer
a hot French onion or mushroom soup, or a roasted squash, garlic, and sweet potato soup in the winter.
The charcuterie board itself consists of:
a selection of meats cured by our local butchers
a variety of creamy cheese produced by one of our local cheese shops
biscuits, crackers, and bread warm from the oven
olives and pickles, mustards and home-made chutney
fresh and dried fruit and nuts
Since I make my own goat cheese and fresh mozzarella, you will also find one or the other of those on the Board, as well as a few surprises.
End your meal with a decadent dessert, and tea or coffee if desired.
Dinner for two is $99 plus HST and gratuity
48 hours minimum notice
Payment in full in advance
"We had a wonderful Charcuterie Dinner at The Rose! From the creamy Thai coconut soup, to the yummy artistically arranged Board, to the decadent chocolate cheesecake with raspberries and cream we were totally impressed. Just Wow!! Thanks so much !
L and M, Toronto, Ontario